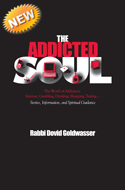 "The Addicted Soul"

The Addicted Soul goes where few have dared to tread and takes the reader behind the closed doors of many teenagers and adults who are challenged by any of a variety of addictions.  The debilitating effects of addictions – from the Internet to shopping – threaten to ruin the lives of individuals, families and society in general, and Rabbi Goldwasser's long-overdue book focuses on this neglected segment of our population. 
For more than twenty-five years, Rabbi Dovid Goldwasser has been counseling young people, couples and families globally, providing reassurance and inspiration, imparted with perception and sensitivity.  Anyone who has ever heard Rabbi Goldwasser speak, met him, or read one of his books needs no introduction to him, and will easily recognize his inimitable and captivating style of addressing the important issues of the day. 
In response to popular demand, and an answer to many prayers, The Addicted Soul provides a comprehensive analysis of the physical, spiritual and emotional conditions of the addicted soul.  This is much more than a cut-and-dried information manual.  In addition to the heartbreaking and real-life vignettes portrayed in this work, the rabbi presents the reader with a treasure trove of lore and Jewish philosophical tractates, Torah thoughts and insights that are guaranteed to be inspiring, poignant, and encouraging.  Rabbi Goldwasser's personal exposition of the Twelve-Step Program, based on Torah values and philosophy, lays an effectual foundation for recovery from addiction and spiritual growth.  The book offers hope and support to the downtrodden, and advice and guidance for the uninitiated who want to remain out of harm's way. Though based on religious doctrine, Rabbi Goldwasser's lessons are applicable to everyone – those who seek to safeguard themselves and their families, and those who desire to overcome their addiction.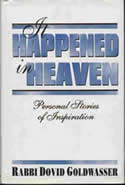 Personal Stories of Inspiration.
Rabbi Dovid Goldwasser has been the manhig ruchani and Rav of Khal Bais Yitzchok for the past decade. His dedication to the klal has its roots in his long-standing work as a Rav, marbitz Torah, and mashpia. A sought-after and renowned speaker, Rabbi Goldwasser has traveled extensively throughout the United States and Europe, galvanizing audiences from every background with his eloquence and dynamism. On radio stations WFMU 91.2 FM and WNJR 1430 AM, he is marbitz Torah to thousands through the daily morning chizuk program and his weekly words of the parashah. Rabbi Goldwassers keen perception and insight, as well as his caring and concern, have enabled him to offer much needed chizuk and inspiration to countless individuals, couples, and families who have sought his counsel. One of the pioneers of the kiruv movement, Rabbi Goldwasser has become a legendary figure. He has a special ko'ach to reach and affect all Jews through his warm and sincere personality as well as through his keen, penetrating Torah insights into the human condition. These stories are only a glimpse into his life's work. His encounters will sometimes astonish, sometimes awaken, and always inspire.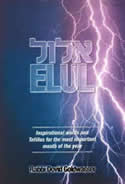 "Elul"
Day-by-day inspiration and tefillos to make the most of the month of Elul
Don't let Elul pass you by! Maximize the opportunities of each and every day of this special month with Rabbi Dovid Goldwasser's new book, Elul. This helpful book features a day-by-day program of study (in both English and Hebrew) as well as special prayers, all perfectly suited for spiritual growth and serious reflection. Don't miss it!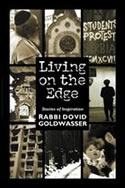 "Living On The Edge"
Extraordinary accounts of extraordinary people!
This best-selling book recounts astonishing stories about compassion, human resilience and the power of faith. From Birmingham, Alabama, to San Antonio, Texas, from South Africa to the Balkans, these stories describe ordinary people facing challenging situations.
This new, expanded edition includes a collection of astonishing stories and thought-provoking perspectives on the September 11th, 2001, terrorist attacks, as well as a section of timely and inspirational prayers.
In this extraordinary book, renowned spiritual leader, speaker and author Rabbi Dovid Goldwasser recounts real-life experiences of real people from around the world. These are not third-hand tales. Rabbi Goldwasser, who travels extensively to speak to Jewish communities in every corner of the globe and is the spiritual mentor to many hundreds of individuals and families, shares with us some of the more fascinating and inspiring stories of people he has encountered -- those whose lives are filled with desperation, courage and, ultimately, hope.
These stories could have happened to the family next door -- to people you know and care about. You will be riveted -- and encouraged -- by the resolve of ordinary people forced to overcome extraordinary circumstances. You will be inspired by how Jews continue to survive even while... Living on the Edge.
"Rabbi Dovid Goldwasser is a renowned dynamic personality who guides people in the ways of the Torah. With this book, he continues in his inimitable manner inspiring, encouraging, and strengthening the soul within many of our nation...May his influence spread throughout the world."
-- HaRav Avigdor Miller, zt"l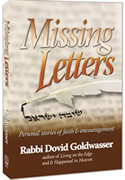 "Missing Letters"
Renowned Torah leader, educator, speaker and author, Rabbi Dovid Goldwasser travels extensively to Jewish communities in every part of the world. With his warmth and wisdom he has inspired, educated, guided and comforted thousands.
Missing Letters, like his previous works, It Happened in Heaven and Living on the Edge, is filled with fascinating and inspiring stories of people Rabbi Goldwasser has encountered, whose situations are often desperate, but who ultimately triumph with courage, and hope.
The Sages tell us that each Jew is likened to a letter in Hashem's heavenly Torah scroll. Those Jews who veer from their spiritual path are compared to "missing letters" in this special Torah.
In this volume, you will read gripping true stories of inspiration and return. These are stories that could happen to anyone – to people you know and care about. You will be captivated and uplifted by acts of unbelievable chesed; by stunning examples of hashgocha pratis, and by accounts of ordinary people rising to extraordinary heights.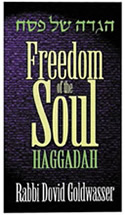 "Freedom Of The Soul"
Inspiring, uplifting and insightful!
For those who have never heard Rabbi Dovid Goldwasser speak, or have never had the chance to read his works, this unique Haggadah offers a golden opportunity to make the acquaintance of one of today's most popular exponents of the Torah way of life. Since the difficulty of finding just the right Torah thought or the appropriate story presents itself every year at the Pesach Seder, readers will appreciate the rich assortment of commentary Rabbi Goldwasser offers. His insightful observations not only address the many challenges we face today, but also offer a refreshing and profound understanding of the Haggadah.
Anyone who has ever listened to Rabbi Goldwasser speak at any one of his many engagements around the world needs no further persuasion to acquire this Haggadah.
Anyone else -- read this Haggadah, and see for yourself what everyone is talking about!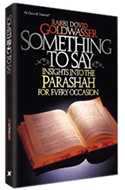 "Something To Say"
"Please, say a few words."
An innocent, sincere request that strikes terror in many a heart. "I'm not prepared." "Where can I find a quick idea?" "If only I had a story to fit the occasion!"
This book is the answer to many such prayers.
But it's much more than a speaker's manual. This is a book that will be enjoyable reading for every day of the year. It is a response to popular demand. It began with the popularity of Rabbi Dovid Goldwasser, a charismatic teacher who has won a host of followers through the magnetism of his personality and the fascinating content of his speeches and articles.
"Collect some of your talks in book form," people asked. Here it is!
Rabbi Goldwasser goes through all the weekly sidras in the Torah, and gives us three brief thoughts on each one. Each selection, with hardly an exception, includes a Torah idea, embellished or illustrated by a story. It's a perfect daily companion -- pick it up for a fascinating scan whenever you have a few minutes aching to be filled with something enjoyable and worthwhile. Use it at the Shabbos table. Browse through it when you need an idea for a talk or an insight to share with a companion.
To make this book even more useful, Rabbi Goldwasser has appended an index to classify the subjects according to occasions: bris, sheva berachos, bar mitzvah, and so on.
Anyone who has ever listened to Rabbi Goldwasser needs no further inducement. For those who have never heard him, met him, or read him, this book is a golden opportunity to make the acquaintance of one of today's most popular exponents of the Torah way of life. When you read this book, you'll know why.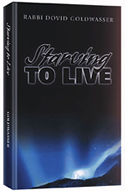 "Starving To Live"
These are the voices of those in the midst of the agony of eating disorders. In this new book, Rabbi Dovid Goldwasser vividly documents the painful struggle of those confronting eating disorders. He provides readers with an inside look at this disease from the unique perspective of a rabbi called upon to counsel those in the throes of eating disorders.
Starving To Live features:
-An anorexic girl's diary of growing up, becoming a teenager, going away to camp and then learning in a Jerusalem seminary -- all the while recounting in excruciating detail her continual struggle -- and the struggle of the girls around her -- with anorexia. Her diary closes with a hopeful note about recovery.
-Side by side with this eye-opening diary are insightful comments brought down by Rabbi Goldwasser from the Torah, from Chazal and from Gedolim throughout the centuries.
-Tips on how parents can help prevent eating disorders in their own children.
-Specific symptoms of anorexia and bulimia and how to act around someone experiencing an eating disorder.
-A discussion of the causes of eating disorders, including the pressure to succeed, the pressure to be thin in order to find a good shidduch and the overemphasis, in many homes, on food.
-Rabbi Goldwasser movingly recounts the shame that hinders all too many people from reaching out and getting the help they so desperately need. Too many people he has encountered have no place to turn and remain tormented with this disease.
-A fascinating essay on weight loss in halacha based on responsa by Rabbi Moshe Feinstein.
-Advice on healthy eating from Maimonides.
-A heartrending list of questions that Rabbi Goldwasser has been asked by people with eating disorders who went to him for counseling. Some of the more terrifying questions include: If one purges after a meal, is one still obligated to recite Birchas Hamazon (Grace after Meals)? Or, if one is receiving nutrition intravenously because of anorexia, is a bracha (blessing) still necessary?
-Inspirational Chassidic stories.
However, even though Starving to Live documents a terrifying disease, this book also contains much hope and faith, as it shows that many people recover from this disease and go on to lead full, happy lives.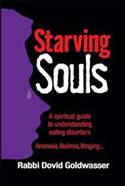 "Starving Souls"
Anorexia, Bulimia, Binging…

Starving Souls is a long overdue in-depth look behind the closed doors of many children, tweens, teens and adults who are suffering with eating disorders. Infused with a spiritual perspective and insights, the book provides the reader with a cornucopia of information. This work encompasses the spectrum of eating disorders, and includes detailed analyses of the physical, spiritual and emotional conditions of the ED patient. Real-life stories present a backdrop for this comprehensive study of different interventions and modalities that have proven successful. Though based on Jewish religious doctrine, Rabbi Goldwasser's lessons are applicable to people from all walks of life regardless of their affiliation, who hope to understand or overcome an eating disorder.

About the author…

Rabbi Dovid Goldwasser is a renowned speaker, eating disorders counselor, syndicated columnist, university professor, and popular radio commentator who has authored many books. He is known for his exceptional ability to captivate and inspire audiences worldwide.

Rabbi Goldwasser provides reassurance and inspiration, counseling young people, couples and families globally. For the last twenty years, he has been a leading proponent in the community for the prompt recognition of eating disorders and its proper treatment. He works closely with medical personnel and mental health professionals, facilities, and their patients and has written extensively on the subject of eating disorders.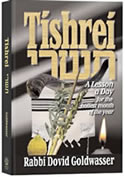 "Tishrei"
Start the year right by maximizing the potential of every single day in Tishrei. Rabbi Dovid Goldwasser offers insights and inspiration into the special character of each day of the month, as well as a collection of poignant tefillos that can make all the difference at this time of judgment. This unique book can be studied in either Hebrew or English. Don't miss it!