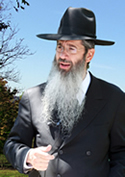 Often recognized as the familiar, soothing voice heard daily on 91.1 FM WFMU and 620 AM WSNR, Rabbi Dovid Goldwasser disseminates Torah to tens of thousands, inspiring hearts and infusing minds. He has galvanized countless audiences from every background with his eloquence and dynamism through his multiple roles of educator, author, community leader, noted lecturer and spiritual...

וילך -פרשת נצבים

ALONE

"And you will return to Hashem your G-d …" (Devarim 30:2)
At this time of year each one of us is especially committed to be inspired to do teshuvah.  The Baal Shem Tov notes that when one lights a candle in the dark he no longer sees the blackness.  Similarly, although the individual's soul may be sullied from sin, the process of teshuvah conceives a new creation that has no association with his past...